Following Successful Large-Scale Installation, D&K Begins Manufacturing and Shipping CHILLDYNE Cooling Distribution Units (CDUs) in Quantity
San Diego – (Nov. 9, 2017) – D&K Engineering, an international company providing Total Commercialization Solutions® for products and instruments that have high innovation content and complex manufacturing lifecycles, today announced its client Chilldyne has successfully installed a $1.25 million direct-to-chip liquid cooling system in a South Korean national lab. Chilldyne's technologies were designed specifically to eliminate the risks associated with liquid cooling while keeping deployment costs low and reducing data center operating costs. D&K designed the Chilldyne Cool-Flo® system in partnership with Chilldyne engineers. Now that the system has been successfully deployed, D&K will begin building and shipping Cool-Flo systems in quantity at its ISO-certified facility.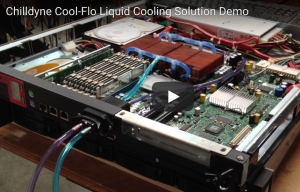 "We are pleased that our patented liquid cooling system was included in this $1.25 million customer installation. This is the second large-scale order we have sold to our Korean reseller partner Mirhenge following a similar system installed in 2015," said Chilldyne's President and CEO Robert Spears.
The Chilldyne Cool-Flo system provides water under negative pressure to cool 660kW of power.  Each server blade is equipped with a Radeon R9 Fury X GPU card, injection molded GPU manifolds and custom Chilldyne cold plates with internal turbulators. The Cool-Flo system uses six Cooling Distribution Units (CDUs) in a 4+2 redundant back-up configuration to deliver water to the 25 racks and 300 Cirrascale servers.
"The Chilldyne partnership is a perfect example of D&K Engineering's flexible model of engagement allowing a seamless transition from Chilldyne's design team to D&K's manufacturing to successfully build Cool-Flo systems. D&K is excited to be part of the successful installation of the Cool-Flo," Scott Dennis, Chief Executive Officer D&K Engineering.
About D&K Engineering
D&K Engineering provides Total Commercialization Solutions® for products and instruments that have high innovation content and complex manufacturing lifecycles. Our capabilities span the entire product lifecycle, including requirements definition, systems architecture, concept creation, design, prototyping, manufacturing, and after-market support. From Fortune 100 to early-stage startups, our clients leverage D&K's infrastructure and TCS approach to evolve hardware, systems and product ideas through all development stages and into stable manufacturing. Our experience-driven engineering, manufacturing and supply chain services get products to market faster with a lower overall cost of development, providing a significant competitive advantage for our customers. We are headquartered in San Diego, California, and have additional development and manufacturing sites in Singapore and Malaysia. For more information, please visit: www.dkengineering.com.
About Chilldyne
Chilldyne is a Carlsbad, CA-based company that sells liquid cooling systems optimized for data centers. Chilldyne's direct-to-chip liquid cooling Cool-Flo® system offers all the benefits of liquid cooling without reducing uptime and with no worries about leaks.  The system utilizes hybrid air-and-liquid-cooled heat sinks and negative pressure to deliver a zero-downtime, leak-proof, low-cost solution, making the switch to modern liquid cooling an easy decision. For more information about Chilldyne, visit: www.chilldyne.com.