D&K Engineering Designed Underway Replenishment (UNREP) Control Systems Eliminate Sources of Increasingly Severe Maintenance and Support Headaches for U.S. Navy Vessels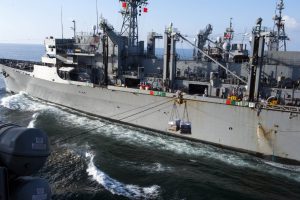 Philadelphia, Intelligent Ships Symposium – (May 25, 2017) – D&K Engineering, an international product design and contract manufacturing services provider, today announced two of its senior engineers, Kenneth A. Regas and Alan J. Senior will be presenting today at the prestigious American Society of Naval Engineers (ASNE) Intelligent Ships Symposium, a biennial conference that provides technical presentations for the Naval Engineering community. Regas and Senior are members of a team that designed, built and commissioned the control systems for two solid cargo transfer stations and one fueling station now in operation on USNS Arctic and at the Navy's Unrep test site in California.
"Our control system solved some significant cost and labor issues while creating an environment that featured a modular and integrated set of common mechanical, electronic and software solutions that can be extended to other applications that require robust control of shipboard machinery," said Gary Merrill, Vice President of Business Development, Defense, at D&K Engineering. "We're really proud of the end result and thrilled to be invited to share the program and technical details with the community of naval engineers."
D&K Engineering first began work for the Navy in 2000 investigating methods to improve operability of legacy Navy Standard equipment. Due to system limitations, landing a load between ships has long been a difficult task requiring a highly skilled operator, even in daylight and calm seas. At night and in turbulent weather, all the more so. In 2007, D&K demonstrated the first electronic system for automatic landing of cargo loads.
Based on the success of that project, the Navy increased the scope of its project to include elimination of high maintenance and repair systems, while calling for fail-operability, maintenance of the look and feel of the legacy system, physical and procedural compatibility with that system, and use of common components to minimize the logistics footprint.
The control system for this equipment consists of two types of electronics enclosures. The "brains" consists of low-power (120 VAC) enclosures that provide operator controls, data communication, and computing, based on Programmable Logic Controller (PLC) technology. The "brawn" consists of high-power (480 VAC) enclosures that energize and control the winches and other deck machinery using Variable Frequency Drive (VFD) technology. Brains and brawn are linked by digital communications networks.
The system architecture is modular in that a handful of basic enclosure types (master power panel, master control console, local control panel, PLC, I/O, load center, VFD) is exploited mix-and-match style to populate the system. It is integrated in that common mechanical, electronic, and software solutions are used throughout the system. The end result is a control system readily extensible to other applications that require proven controls in a shipboard environment.
"This program is a great example of the huge efficiency leaps that can be accomplished when great engineers work together," said Merrill. "We share the success of this project with our team of Navy civil service engineers at Port Hueneme and our subcontract partners at Rockwell Automation."
Regas and Senior will be presenting on May 25 at 10:30 a.m. as part of the In-Service Engineering Track. A detailed white paper describing the program objectives and results is also available for download.
About D&K Engineering
D&K Engineering is an international product design and contract manufacturing services company with a proven track record of turning innovative ideas into successful products and lines of business. Our capabilities span the entire product development life cycle, including requirements definition, systems architecture, concept creation, design, prototyping, manufacturing, and after-market support. Our clients leverage our proprietary Total Commercialization Solutions to evolve hardware, systems and content-based product ideas from initial design to manufacturing and into a sustainable line of business. Our experience-driven engineering, manufacturing and supply chain services get products to market faster with lower overall cost of development providing our customers with significant competitive advantage.  D&K Engineering is headquartered in San Diego, California and is also located in Singapore.